Wild Life Sanctuaries

RANTHAMBORE
The most exciting aspect of a visit to a wildlife sanctuary is the safari into the jungles, of meeting the unexpected and completely missing the expected. Animals can be seen in a zoo also, but the dangerous thrill of actually encountering a wild beast in its natural habitat is a sure method of testing ones patience and bravado.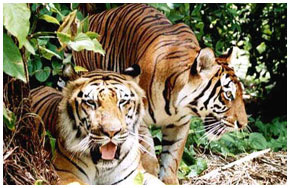 The Park is open from October to April, after which the monsoons make it impossible to enter forests as the muddy trails are washed away. The best times to view wildlife are the early mornings and evenings, as fixed by the forest department, and in Ranthambhore there is a fairly good chance of spotting a tiger. A network of four tracks crisscross the park. A maximum of three open jeeps are allowed on each trail at a time. There are open roofed canters (small trucks) but these are not very good for viewing wildlife as they seat 20 people who can get really excited on seeing an animal and scare it away. Also, canters are shaky vehicles and photography is nearly impossible from them because their drivers stop and start on their own whims and without warning. Rides into the jungle in open jeeps are pretty safe as most of the wild animals are accustomed to human presence.
The best time to visit the Park is between October to February. Jeeps can be booked up to five months in advance and even a day earlier. Each safari takes about three hours.
Safari Timing in Ranthambore National Park Timings for entry into, and exit from, the park vary according to the season. In winters, due to the shorter duration of daylight hours, the morning entry time is later and evening exit time is earlier.
SARISKA
This park is situated only 200 km from Delhi and 107 kms from Jaipur. Although larger than Ranthambor, it is less commercialized and has less tigers but a similar Physical Features. It covers an area of 800 sq km in total, with a core area of approximately 500 sq km. The Northern Aravali Hills dominate the skyline with their mixture of sharp cliffs and long narrow valleys. The area was declared a sanctuary in 1955 and became a National Park in 1979.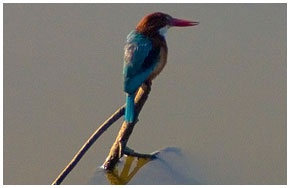 The landscape of Sariska comprises of hills and narrow valleys of the Aravali hill range. The Physical Features of Sariska supports scrub-thorn arid forests, dry deciduous forests, rocks and grasses. The broad range of wildlife here is a wonderful example of ecological adoption and tolerance, for the Seasons of Rajasthan here is variable as well as erratic.
It is located in the contemporary Alwar district and is the legacy of the Maharajas of Alwar. Pavilions and Temples within Sariska are ruins that hint at past riches and glory. The nearby Kankwadi Fort has a long and turbulent history.
In morning and evening, wildlife in Sariska heads towards the many water holes, which litter the park, thus providing the guests with their best chance of viewing game. At some of these watering holes it is possible to book hides which are situated in prime spots for wildlife viewing.
The park is home to numerous carnivores including Leopard, Wild Dog, Jungle Cat, Civets Hyena, Jackal, and Tiger. These feed on species such as Sambar, Chital, Nilgai, Chausingha, Wild Boar and Langur. Sariska is also well known for its large population of Rhesus Monkeys, which are found around Talvriksh.
The avian world is also well represented with Peafowl, Grey Partridge, Bush Quail, Sand Grouse, Tree Pie, Golden backed Woodpecker, crested Serpent Eagle and The Great Indian horned Owl.
The park is open almost whole year-round, but for wildlife viewing and your comfort it is best to visit from October to April. Safaris are provided by jeep. Best Time to Visit Visitors can visit Sariska wildlife sanctuary throughout the year, still the beast period is during the months of October to June.

BHARATPUR
One of the finest bird parks in the world, Bharatpur Bird Sanctuary (Keoladeo Ghana National Park) is a reserve that offers protection to faunal species as well. Nesting indigenous water- birds as well as migratory water birds and waterside birds, this sanctuary is also inhabited by Sambar, Chital, Nilgai and Boar.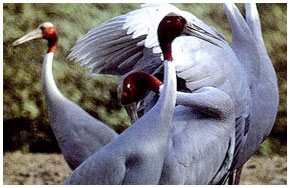 More than 300 species of birds are found in this small wildlife park of 29-sq-kms of which 11-sq-kms are marshes and the rest scrubland and grassland. Keoladeo, the name derives from an ancient Hindu temple, devoted to Lord Shiva, which stands at the centre of the park. 'Ghana' means dense, referring to the thick forest, which used to cover the area.
The major attractions of tourists visiting the park are the numerous migratory birds, who come from as far away as Siberia and Central Asia and spend their winters in Bharatpur, before returning to their breeding grounds. Migratory birds at Bharatpur bird sanctuary include, several species of Cranes, Pelicans, Geese, Ducks, Eagles, Hawks, Shanks, Stints, Wagtails, Warblers, Wheatears, Flycatchers, Buntings, Larks and Pipits, etc.