DAY 01 DELHI:
You will be met on arrival by a representative and transferred by car to the hotel. The history of Delhi, the capital of India, goes back to 3000 years. Various rulers built eight successive cities in and around present day Delhi. Few capitals in the world have as many monuments of which Delhi is justly proud. Capital to seven different cultures over the course of its history, Delhi is a fascinating fusion of them all. The art and architecture reflects its ancient and multifaceted heritage. A Hindu fortress, Mughal tomb, Islamic minaret and mosque are examples of the cultural richness of this city.
Over night at Hotel.
DAY 02 DELHI:
Explore Old Delhi this morning beginning with a drive by the Red Fort, seat of the Mughal Empire. Construction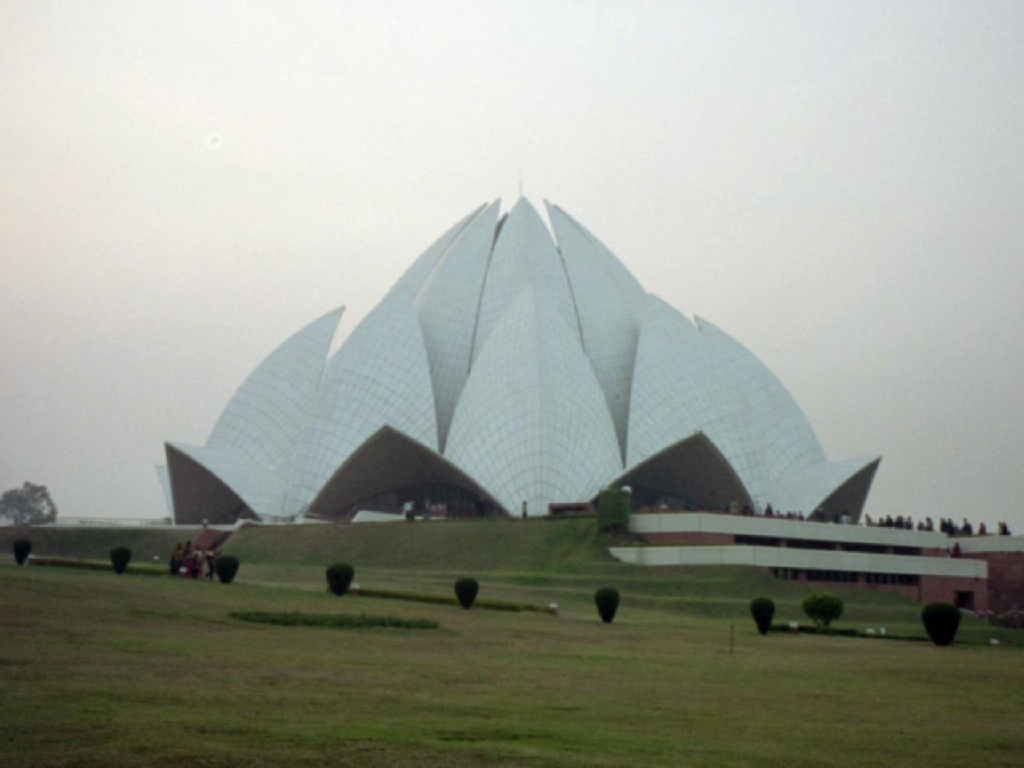 of the massive fort started in 1638 and was completed in 1648 by Shah Jahan. Enjoy a pedi‐cab ride around Chandni Chowk (an old shopping street). See Jama Masjid, which means Friday mosque. It was built in 1656 and is the largest and the most splendid mosque in India. The mosque is made of glowing red sandstone inlaid with marble and brass, and has three majestic white marble domes Also see Raj Ghat, a memorial to the great Mahatma Gandhi. Visit the Crafts Museum, a collection of traditional Indian crafts in textiles, metal, wood and ceramics. Then see the Temple of the Sikh, Gurudwara.
This afternoon visit New Delhi designed in 1911 by the British, and one of the greenest.

Capitals in the world. See the impressive Qutab Minar, a 234‐foot high red sandstone minaret. The buildings date from the onset of Muslim rule in India. Visit Humayun's tomb, built in the 16th‐century, a predecessor to the famous Taj Mahal.

It is the first Mughal Garden Tomb and tomb of the second emperor of the Mughal dynasty. The terraces of the tomb provide an excellent view of the surrounding city. Continue past the government buildings and Rashtrapati Bhawan (Presidential Palace) along the broad and majestic Rajpath.
DAY 03 DELH I - AGRA :
After breakfast drive to Agra 220 km .The earliest reference to Agra is in the epic The Mahabharat. Ptolemy, Alexander the Great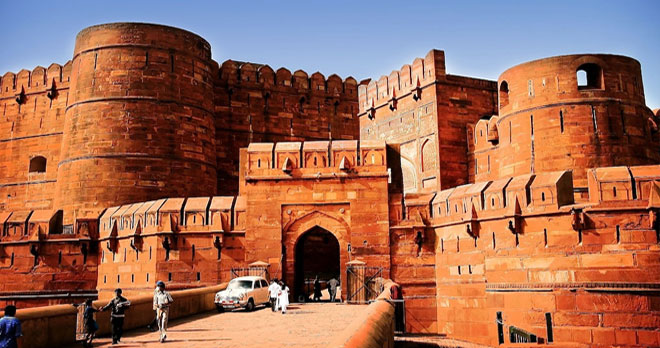 's geographer also called it Agra. It was, however, in the medieval period that Agra earned prominence as a capital city under the Mughals. Its many wonderful monuments and the Taj Mahal, the greatest of them all, have given it a unique position as a major tourist center. The Taj Mahal, simply, is beauty ‐ not just in design and technique, but also in desire and intent. It was built as a monument to love, a manifestation of life's most powerful emotion. When his wife died unexpectedly, Emperor Shahjahan vowed to honor her with a memorial of unmatched beauty.

He commissioned the world's best craftsmen and 20,000 workers to build this beautiful structure. The result stands before you today ‐ a delicately carved, white marble jewel, which seems to float on a sea of red limestone. The Taj Mahal is generally considered the finest example of Mughal architecture, a style that combines elements of Persian, Turkish, Indian, and Islamic architectural styles. In 1983 the Taj became a UNESCO World Heritage Site.
This afternoon visit the important 16th‐ century Mughal monument known as the Red Fort of Agra. This powerful fortress of red sandstone encompasses, within its 2.5‐ km‐long enclosure walls, the imperial city of the Mughal rulers. It comprises many Fairy‐tale palaces, such as the Jahangir Palace and the Khas Mahal, built by Shah Jahan; audience halls, such as the Diwan‐i‐Khas; and two very beautiful mosques.
Overnight at hotel.
DAY 04 AGRA – FATEHPUR SIKRI- JAIPUR :

228 kms 5 ½ hrs
This morning drive to Fatehpur Sikri, the once‐fabled Mogul capital that has taken on a sleeping beauty quality, lyin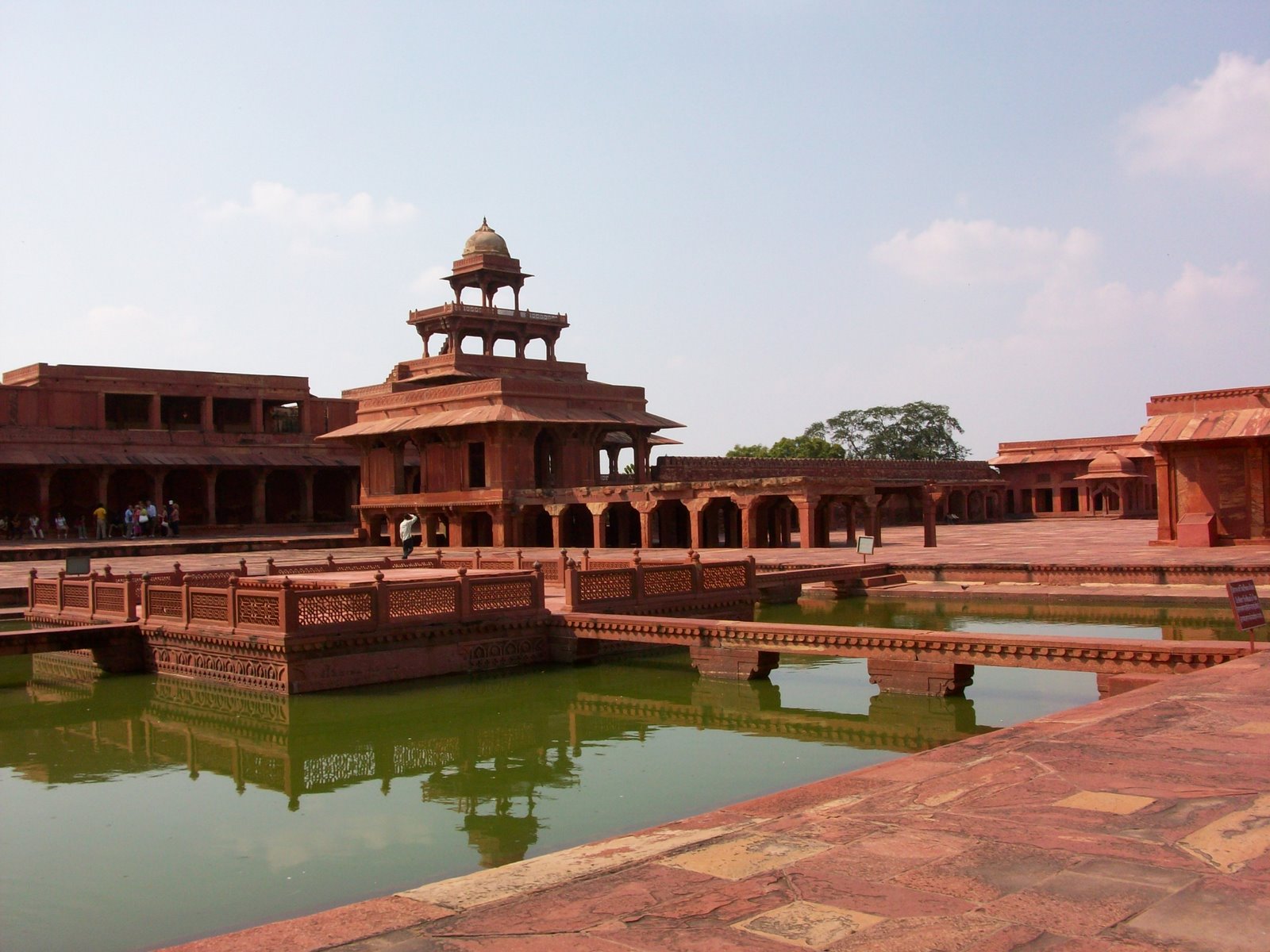 g quietly but wonderfully preserved. The Emperor Akbar built Fatehpur Sikri during the second half of the 16th century; Fatehpur Sikri (the City of Victory) was the capital of the Mughal Empire for only some ten years. The complex of monuments and temples, all in a uniform architectural style, includes one of the largest mosques in India, the Jama Masjid. A large number of masons and stone carvers worked hard on an area that was over two miles long and a mile wide. They used brilliant red sandstone available locally, which provides the buildings with much of their luster. Shortly after the work was completed fifteen years later, it became aparant that there
was a lack of adequate water and safety, hence the pristine complex was abandoned.
Proceed to Jaipur .The rose‐pink capital of Rajasthan, is surrounded on all sides by rugged hills. The city was founded in 1727 by the astronomer‐king, Sawai Jai Singh II and built according to the Shilpa Shastra, the ancient Hindu treatise on architecture and sculpture. It is a walled city with seven rectangular blocks. The Maharajah's palace stands in the center of the city amidst lovely gardens.
DAY 05 JAIPUR :
This morning's excursion takes you to Amber Fort. Riding on elegantly caparisoned elephants, approach the palace in
the traditional way. The high gateways allow us to enter on these broad ‐backed animals. Amber was once the ancient capital of Jaipur. Construction of the fortress‐palace started in 1592 by Raja Man Singh, the Rajput Commander of Akbar's army.
It was later extended and completed by the Jai Singh. The fort is a superb example of Rajput architecture, stunningly situated on a hillside and over‐looking a lake which reflects its terraces and ramparts. This afternoon explore Jaipur visiting Jantar Mantar, an observatory equipped with instruments of astonishing size and precision, including a 90 foot high sun dial. See the Hawa Mahal or Palace of Winds, a major Rajput landmark built in 1799. This five‐story building in the old city is a pink sandstone masterpiece with semi‐octagonal and delicately honeycombed windows.

The monument was originally conceived to enable ladies of the royal household to watch the city's everyday life and royal processions in absolute privacy. The City Palace is the royal residence of the erstwhile King of Jaipur. It houses a museum with a superb collection of Rajasthani costumes, armory of Mughal and Rajput weaponry, and swords of different shapes and sizes with ornamental handles – some of them inlaid with enamel, embellished with jewels and encased in magnificent scabbards. Continue past Moti‐Doongri Palace – a privately owned hilltop fort built like a Scottish castle – to Ram Niwas Gardens and architecturally impressive Albert Hall.
Overnight at hotel.
DAY 06 JAIPUR - DELHI :
After breakfast drive to Delhi and transfer at airport.